rospects for US healthcare reform have stalled but stronger leadership might well restart it. The inability of the Congress to vote on a finished healthcare bill before they went off for the summer recess was predictable, and has certainly caused a worrisome setback for Barack Obama. The country knows we need reform and after the summer, with clearer leadership to the task at hand, the job can be done.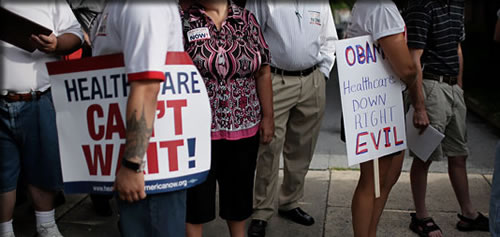 Perhaps it is not a bad thing that the rush to have a bill passed so rapidly stalled. Time for reflection.
The White House has stressed that the expected costs will be brought under control. But, affordable health insurance cannot be achieved without a substantial increase in costs. Universal or near-universal access to affordable health insurance will not be achieved without a substantial increase in costs. Public support for the proposed massive revamping of health-care has been slipping somewhat.
The White House has won promises from drug manufacturers and hospitals to forgo billions of dollars in government re-imbursements to free up money to pay for the overhaul.
It will pass by years end, but the overall will most likely be smaller in scope than that which is on the table.
Democratic members of Congress have taken their plans for healthcare to the voters with a series of "town hall" meetings. Protesters have disrupted these events, shouting down the speakers and waving frequently insulting placards. My own reaction is that the bad-tempered town hall protests do not help the opposition's cause; they are self-defeating.
In some ways the Democrats are simply saying, "Just trust us". Why should we?