hat a week for the nation and the president. So much of significance happened in so many areas, including the time for reflection, comment and assessment of the first 100 days of the Obama presidency.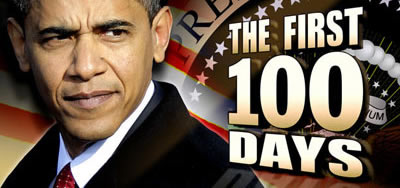 A personal view of how he's done; He has displayed an impressive mastery of so many complex issues. He signed the single most expensive piece of legislation in American history. He took office midst the worst economic crisis in memory. The 800 billion dollar fiscal stimulus that reshapes the role of government in health care, education, the ailing automobile industry, infrastructure and science, was signed.
Overall it appears we have an impressive chief executive who acts boldly and decisively. As he has started to draw down the troops in Iraq he is moving more to the battlefields of Afghanistan. He acted decisively to downsize and save the ailing automobile industry. He has acted swiftly to rescue many hundreds of thousands of Americans from possible mortgage foreclosures.
He has so much more on his plate, but it is fair to say that he has, in so many ways, already displayed a mastery of the art of managing the presidency.
Fareed Zakaria, writing in Newsweek, put it this way, "His calm, measured demeanor, in all circumstances, is reassuring at a troubled time. So is his willingness to steer a reasonable, middle course by slowly withdrawing from Iraq, avoiding bank nationalization and ordering Guantanemo closed over the course of a year.
We've had a week of swine 'flu, of Dow Jones improving, Justice Suter deciding to resign his seat on the Supreme Court (Meaning a chance to give the highest court a new direction or complexion).
This week gone by saw the idiocy of a low-flying government 747 jet, with a fighter escort, circling Manhattan for some thirty minutes, possibly sowing panic in the area where memories of 9/11 are still raw. Whoever conceived and carried out the publicity stunt for the air force should plan on landing a desk job of minimal significance.
The Obama approach to international diplomacy is such an amazing advance over the course and frequently belligerent approach of Bush and Cheney.
Overall Barack Obama's presidency is off to an impressive start. Aside from loud-mouthed talkradio hosts who yearn for the president's failure the country is behind him and wants him to succeed and hope that he becomes a great president...for our sake.