ver the weekend Paul Harvey died. Without a doubt one of the finest broadcasters in the history of radio.
He was always unique and professional and he will long be remembered. I frequently disagreed with his assessments and opinions, but his was the "honorable opposition".
His style was unmistakable and compelling.
His way with a radio commercial was extremely effective and convincing. Frankly, probably, the best salesman radio has ever produced.
He loved his country and his family, above all. A patriot all the way.
One of the real highlights for me was getting to spend an evening with him in Chicago at the installation of half -a- dozen of us into the Radio Hall of Fame.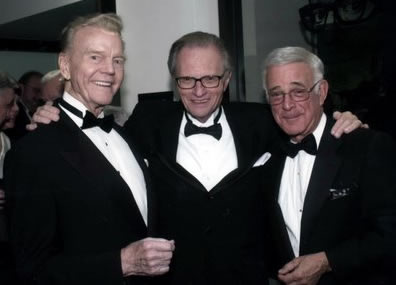 Looking at the 'photo it strikes me that the three of us, Harvey, King and I, have spent well over 150 years broadcasting.
May he rest in well-deserved, peace.
That's Paul Harvey ... Good day!