ll I know about Staph Infections I learned over the week gone by. It is an infection caused by (thank heavens for spell check), Staphylococcus aureas bacteria. It's a nuisance which can be dangerous. It can cause trouble and infection anywhere in the body. It happens to be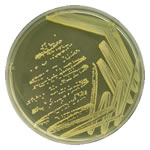 the leading culprit behind cases of food poisoning, and can be to blame for larger life-threatening conditions, such as Toxic Shock Syndrome, bone infections, pneumonia and more. From Saturday until Wednesday I spent my time at Cedars Hospital in Los Angeles, investigated by doctors from several specialties, and loaded with a barrage of antibiotics. It is clearing up, but I still sport a dollar-sized blood-red scar on either cheek. I've been trying to think how to mask my appearance for St. Valentine's dinner with my wife. Maybe I'll take no action and just tell all or any with whom I come into contact, simply, "You should see the other fellow!"
Thank you to the Emergency Room staff, the medical team and nurses for being so attentive and helpful. But, about the food: I dropped 8 lbs. Not the diet of choice.
P.S. with both the staph infection and this evening's celebratory night out, I was warned that, on top of the staph infection and the anti-bacterial medication there must be NO wine-drinking:none. I was told that to imbibe would almost certainly have me back in the ER.
---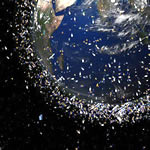 A few days ago there occurred the very first high-speed collision between two intact spacecraft. They were a couple of communications satellites that resulted in the first-ever crash of its kind in orbit, shooting out a pair of massive debris clouds and posing a slight risk to the International Space Station. This had to happen eventually. The accident occurred between an Iridium commercial satellite which had been launched in 1997 and a Russian satellite launched in 1993. Can you just imagine how much different would be the coverage of this story had it occurred back in the Cold War days. Not just two satellites, but one American and the other Russian.

On the self-same day, reported from off the coast of Somalia, warships of the Russian Navy and the United States navy cooperatively captured a boatload of pirates who had been attempting to board and threaten the master and crew of a tanker for large ransom. We worked cooperatively and effectively.
---
Understandably we are focused on the recession as it is impacting on so many millions of families within the United States, but I think it appropriate to point out that the eurozone recession is turning most rapidly into the worst seen and experienced in postwar continental Europe, with Germany leading the way down. The 16-country region fared as badly as the UK, where falling house prices and banking problems have created a spreading sense of gloom.
Looking across the Atlantic, I think the lesson of the past half year is that every country has been affected, whether or not it had a bubble in the property market or not. Germany has been worst affected and one wonders whether there isn't a sense of some schardenfreude in London.
Speaking of Germany, rarely has the appointment of a German economics minister generated as much interest as a newcomer, a 37 year old foreign policy expert. Not a story that has made much of a ripple, but thanks to the Financial Times writer, Frederick Studemann Schulenburg, it is possible that the economics minister's name might be something of a handicap at conferences. He was christened Karl Theodor Maria Nikolaus Johann Jakob Phillipp Franz Joseph Sylvester Freiherr von and zu Guttenberg. I couldn't find many listings for a similar inclusion in the 'phone directory anywhere.
---
The world yearns for more "Sullenbergers", not "Sulemans". Peggy Noonan wrote a story for the New York Times headlined "Is Octomom" America's future. " God, I hope not. His, the airline Captain's story, is immediately and understandably heroic. Hers is pathetic. We'll speak more on these subjects and many more in the upcoming journals; from the airline tragedies to the congressional bail-out and how, perhaps, our president can make the much needed changes in everything from the infrastructure to the economy, from unemployment to healthcare , wars and terrorism. Has there ever been such a time of turmoil with such a constant focus and attention to every breath the Chief Executive takes.? No wonder George W Bush looked so relaxed on the day he left the White House.