friend called me over the weekend to ask whether I'd heard that a very good friend of ours had died a few hours earlier. I hadn't. A lot will be written about him over the next few days. Maurice Jarre, the French composer, died on March 29th. at the age of 84. He was best known for his award-winning scores for those great David Lean film epics Lawrence of Arabia, Doctor Zhivago and A Passage to India. His work was featured in well-over 150 films, earning him three Oscars, six further nominations and a brilliant reputation.

He was an extremely modest person with an impish sense of humor and a love of life which he lived to the fullest.

There's hardly a music box manufactured in Switzerland that doesn't include Lara's Theme from Zhivago. There is no more magically effective thematic music than that which he wrote for Lawrence of Arabia. I'll never forget the scene where Lawrence's young servant waits for his master's return and sees the tiny speck on the shimmering desert horizon, and as the figure of Lawrence comes into view, the music builds to a lush heart pounding crescendo.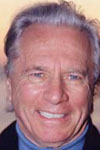 Maurice-Alexis Jarre was born in 1924 at Lyon in France. He began as an engineering student at the Sorbonne in Paris and then decided to switch to music, dropped out of the Sorbonne and enrolled at the Paris Conservatoire. When he left academia the navy beckoned and he became a timpanist in the nautical band; Le Musique des Equipages de la Flotte. (I would love to introduce him as such to friends when he came to our home ).
He worked with some of the greatest names in the film world; John Huston, Alfred Hitchcock, Luchino Visconti, Franco Zefirelli.

My wife, Alana, has always claimed the Maurice possessed the bluest eyes in the world.

We send our love and condolences to his family, and especially, to his wife of a quarter century, Khong Fui Fong.