he Week" quoted a New York resident speaking about The Golden State and our state of decline. He wrote "California used to be our most glamorous state - a sunny symbol of opportunity, innovation, and the pursuit of happiness. But California became a very different kind of symbol last week when the state government, mired in a budget impasse, resorted to issuing IOUs. to vendors, local governments, and citizens awaiting tax refunds. It's almost hard to believe what a mess the state has become, considering that it is home to almost ten percent of the U.S. population and twelve percent of the nation's GDP." We also boast the 8th largest economy in the world. Meanwhile just a few days ago our Governor, Arnold Schwarzenegger, said "People always say that the United States maybe has to bail out California." Governor, I can't remember hearing anyone say that. Our Governor also pointed out that California is in much better shape than the United States. Right now, is he saying a whole lot?


oes Alaska's Governor really believe that she has outgrown the state she was elected to govern? Probably. Is her future in politics pursuing ambitions which will take her to the lower 48 states? Probably.
Her role is likely to be to carry on the culture wars full-time and to keep stirring resentment of Washington DC, all shades of liberals and of course, the media. There's no doubt she has a considerable following and with equal assuredness, it is fair to say, she would like to be president.
In many a small community across the country she embodies what is needed to rescue the GOP from its ruination. Now that she is away from Alaskan politics she can spread her wings, and if she chooses to, revel in her fans adoration.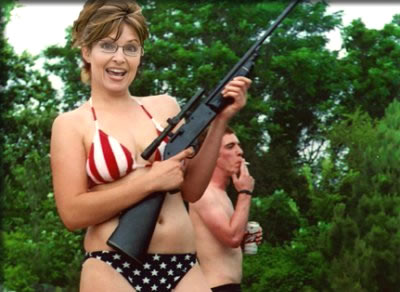 I don't see her as having any political credibility.