From the Wall Street Journal:




urning on the TV last night to see dozens of fans gathered around his Hollywood star on Vine Street capped a career of eponymic confusion for Michael Jackson, the radio personality.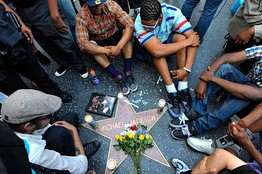 Long used to sharing his name with the much more famous pop singer, radio man Michael Jackson took the crowds in stride. "It doesn't matter," he sighed. "May they gather wherever they feel like gathering." The pop singer's star, on nearby Hollywood Blvd., was blocked for the movie premiere of "Bruno."
A top-rated radio host in Los Angeles for decades starting in the 1960s, Jackson recalls years ago noticing the rise of the pop star who shared his name and asking the American Federation of Television & Radio Artists about the confusing situation. He says they told him they would ask the younger Jackson to use the initial "J" to avoid mix-up, but the pop singer never did. "I tried to live with it," says the older Jackson.
A spokesman for AFTRA confirmed that Michael Jackson, the singer, is "Michael J. Jackson" in official AFTRA records. The organization often asks its members who share names to use middle initials in similar situations– but doesn't require them to, another spokesman said.
The two Jacksons once met at a Los Angeles medical building, says the older Jackson. When the radio personality introduced himself, the singer joked "Where did you get your name?" recalled the radio host. "I told him I changed it and I had been Englebert Humperdink," he said. The pop star was gracious and told him he had listened to his show on occasion, says the older Jackson. The radio host calls the singer a "brilliant star."
Yesterday, the radio host's phone didn't stop ringing, he said, as friends called to tease him about the fate of his famous comrade in nomenclature. Despite the flowers and candles on his star, "the rumors of my death are premature," says the host.
For the record, Michael Jackson, the radio personality, was first to get a star on the Walk of Fame, in August 1984. Michael Jackson, the pop star, followed in November 1984.
"By the way, my nickname in boarding school was Jacko," says the radio host.