or the time being it certainly has lost it's page one, headline making, news worthiness, but it'll be back as a major story, because, simply stated, it continues to occur. I'm referring to the pirates of the Indian Ocean. A couple of days ago a German freighter was released from the grip of the pirates four months after the ship was seized. According to a commander of the British Royal Navy the 20,000 ton Hansa Stavanger was taken 400 miles off the Somali port of Kismayu on April 4th. Reports have it that $2.7 million was paid in ransom and just a couple of hours later the ship, with her multi-national crew, was released. The release came just hours after a Malaysian tugboat was freed. It had been held in captivity for more than half a year. All in all pirates in the area have conducted more than 100 attacks this year alone and currently hold about a dozen vessels. It is very possibly the number one profit industry in that country and the wealthy brigands are becoming more and more the heroes of Somalia.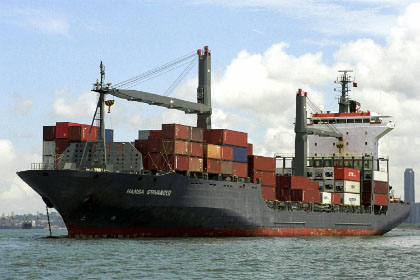 It might be a good idea to invite these disreputable characters to try and board one of our aircraft carriers, and then we might end the story entirely with one swift raid. Or perhaps we might ask Bill Clinton to work his mediating magic and dissuade the leadership of that benighted nation. The world has got to put a stop to this mounting criminality, somehow.


ust the other day I mentioned, in passing, that I am still not doing any texting. It does grow slightly in appeal; particularly after having learned a little of the lingo that's being employed by any-and-everyone from tweens to bosses.
pcm....please call me
kutgw....keep up the good work
iat....I'm tired
hand....have a nice day.
If you understand and appreciate this form of communication, let me try a few more, provided by the WSJ (wall street journal).
paw....parents are watching
4col....for crying out loud.
wrud....what are you doing.
pcm....please call me.
My favorite to the moment;
lmirl....let's meet in real life.
fwiw....(for what it's worth),